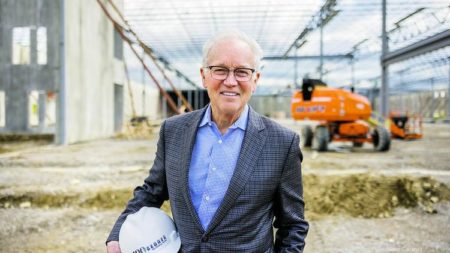 This article is a supplement to the Courier's 2022 list of largest general contractors.  Can be found at the following link:  https://bizj.us/1qg3dn
Paul Hemmer Jr. didn't plan to join the family business. But here he is, 40 years after forming Paul Hemmer Co., preparing for a record year.
In fact, Hemmer said there is so much activity, the number of subcontractors who are available to do work in 2022 is minimal. Companies have booked out for the year and don't have the capacity to add any more work.
"I've been doing this for 50 years and there's never been a time like this," Hemmer said.
Paul Hemmer Co. traces its roots to John M. Hemmer Co., which was founded by Paul Hemmer Jr.'s grandfather in 1921. The company started off building homes before expanding into commercial projects.
Today, Paul Hemmer is a provider of construction services in the medical, distribution, manufacturing, office, retail and institutional markets throughout the region. Some of Paul Hemmer's current projects in Greater Cincinnati include the $20 million Freestore Foodbank distribution facility and workforce training center, a manufacturing addition and renovation for Perfetti Van Melle in Erlanger and an 842,000-square-foot industrial building for Core5 Industrial Partners LLC that is leased to Diversey.
But Hemmer is starting the process of transitioning ownership to the next generation of Paul Hemmer Co. leaders. While the details haven't been worked out yet, he expects the change will take place over the next 10 years.
We're committed to executing a plan," Hemmer said. "We want to make sure there is long-term success. I feel very confident we will be here in another 100 years."
What are you seeing in terms of activity in 2022? Robust activity tempered by inflation, supply chain issues and workforce capacity. Despite these headwinds, we are planning for a record year in all business groups. This is a turbulent business we're in right now. It's turbulent everywhere, but it's more prevalent in construction.
What's your morning routine like? I get up with our dogs, get them outside and fed, make a cup of coffee, a simple workout consisting of core, planks, pushups, and on to my office to get an early start on my day. I'm usually up between quarter till 6 or 6 and at the office a little before 7.
Why do you have the career you have? I love the business, the people and the creative opportunity. I had the good fortune to hear about it every day at dinner. I look forward to every day. My wife teases me sometimes. I've been at this for 50 years, but I have a young group of the next generation of leaders, just being around them is fun and exciting and invigorating.
When you were 10, what did you want to be when you grew up? My early thoughts were a surgeon, architect or builder. I had strong role models in each of those areas. I had two uncles who were doctors.
What's your favorite vacation spot? My wife and I purchased a motor coach early on in the pandemic. We go where the wind takes us, concerts, sporting events, historic sites, natural wonders and family.
Where would we find you on a typical Saturday morning? At our farm hiking with our dogs. We have a farm with 200 acres and 12 miles of trails, so we go down there and walk on the trails.
What has been your smartest business move? Luck and timing. I joined our family business after working for an apartment development company for five years. It was intended to be short term, but look at me now, 45 years later.
What do you think is Cincinnati's best-kept secret? Its people. They are not pretentious, hardworking and comfortable.
What food/drink is always stocked in the Hemmer household? Always something light for dinner, typically all the salad fixings, fresh vegetables and something to grill. I do keep a hidden stash of chocolate-covered almonds.
Paul Hemmer
Title: President and CEO
Company: Paul Hemmer Co.
Education: Bachelor's and master's in civil engineering, Purdue University
Age: 72
Family: Wife, Mary; five grown children and four grandchildren
Resides: Villa Hills
Hometown: Fort Mitchell
Experience (career path): Joined East and Co. in 1972, CL Development from 1975 to 1976, joined John M. Hemmer Construction Co. in 1976 and launched Paul Hemmer Co. in 1982