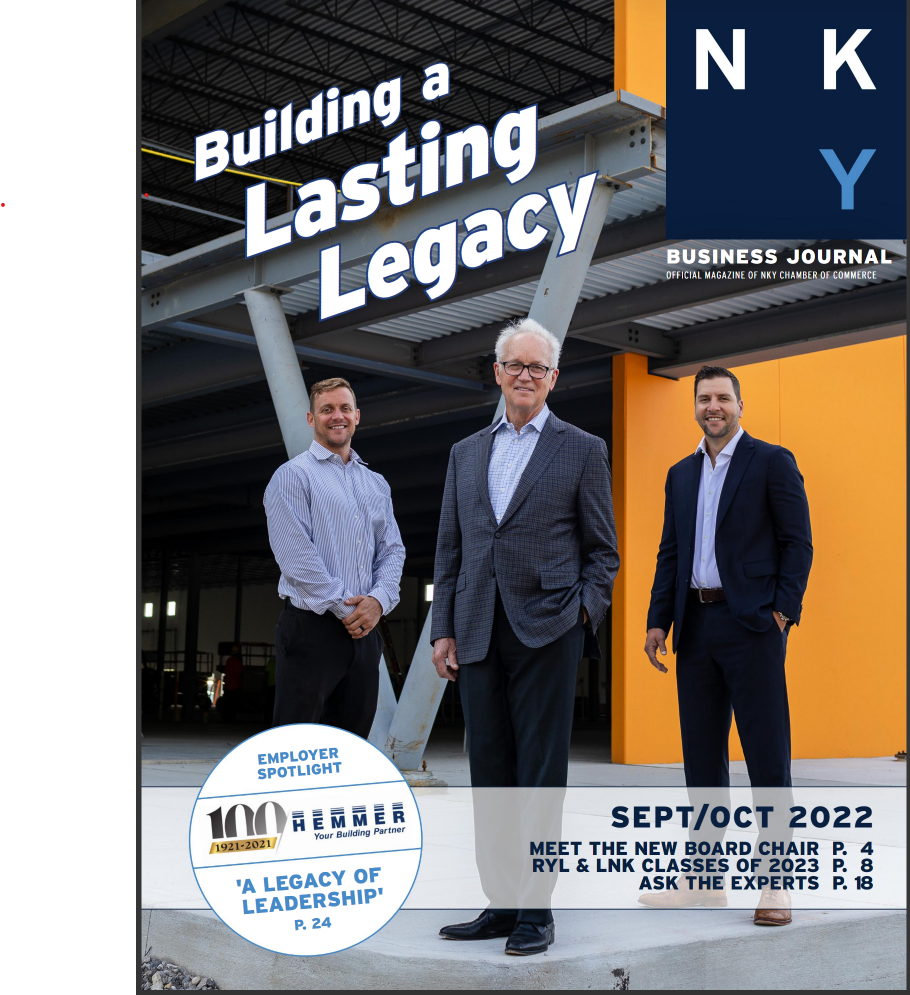 A LEGACY OF LEADERSHIP
Paul Hemmer Companies Celebrates its Centennial while Planning for its Future
Tabari McCoy / Scooter Media
As its President and CEO, Paul W. Hemmer, Jr. has an appreciation for the longevity and legacy of the company that bears his name. It's his hope, however, the first century is merely setting the stage for even greater things to come.
In his mind, leadership will play a critical role in making sure that happens.
"When I took the reins in 1982, I realized that it wasn't a one man show. It was very dependent upon finding my skill sets and then complimenting those with a team," Hemmer, Jr. says. "A leader is someone that listens and sets the direction for the company. They create an environment that's exciting to give people the opportunity to make decisions and to be entrepreneurs within the context of the company and empower them to succeed … I've been working for 50 years and know how important it was to feel part of a team, enjoy the work environment, feel empowered and we try and do that with everyone in our company."
CULTIVATING A CULTURE OF LEADERSHIP
Historically, 1921 was a landmark year for a multitude of reasons. Global politics abroad would change with the founding of several new regimes and countries declaring independence from others … Three Canadian scientists would discover insulin … and George Herman "Babe" Ruth concurrently became Major League Baseball's all-time home run leader en route to his thought-to-be-unbreakable career record of 714.
In Northern Kentucky, 1921 would see John M. Hemmer founding a construction company his son Paul Sr. would eventually take over. Now, 101 years later, Hemmer, Jr. continues his family's legacy at the helm of Paul Hemmer Companies, the firm enjoying revenues "in excess of $125 million" last year by his own admission.
Given that industry prowess, it might come as a surprise to hear that while he plans to work – "indefinitely" – Hemmer, Jr. recently began plans to expand the respective roles of his company's leadership team. Hemmer, Jr. says the move is necessary for the business to continue to grow while serving in a coach/mentor role along the way.
"I look at two things: To lead you must have aptitude and ambition. Somebody that has the aptitude may not have the skill set, but when combined with ambition they can learn that skill set. I'm not so arrogant to think that my way is the only way – other people have ideas and, in many cases, they're different but better," he says. "It's not just taking what we're doing and replicating it; it's a combination of continuous improvement and taking strategic risks on how we choose to grow the business.
Senior Project Manager Christian Mains, a Northern Kentucky University alum responsible for fiscal and administrative management of several of Hemmer's commercial and industrial projects, says strong leadership contributes significantly to the company's success.
"We wouldn't be here today if it wasn't for great leadership from the top down. You speak with Paul and he's open arms, willing to listen and that's our company environment," Mains says. "That kind of vibe is felt working with us, our subcontractors, our architects and engineers, and developers.  They feel it and that's why we have so much repeat business because of our leadership, our ethics and how they trust us."
Matt Curtin echoes Mains' sentiment. The Senior Business Development Manager for Paul Hemmer Companies, Curtin is a fourth-generation Hemmer employee.
Curtin began his career in the company's subsidiary, Building Management Partners, at 16. After earning his bachelor's degree from the University of Kentucky and MBA from Thomas More University, he would go on to gain experience in real estate development, leasing and acquisition before returning to Hemmer in April 2020. Curtin also recently added another accolade to his resume as a graduate of the NKY Chamber's Leadership Northern Kentucky program, the same leadership development program Hemmer, Jr. himself graduated from as part of its inaugural class in 1979.
Now tasked with developing long-term client relationships for construction services, industrial land sales and real estate, Curtin says leadership can be a major factor in helping employers resolve workforce issues since it "sets the tone".
"You can offer so many workplace benefits, work from home flexibility, all the other stuff you see companies trying to do to get new people to come work for them; ultimately, what it comes down to is if you have strong leadership, you're going to be successful," he says. "When you communicate what your upward trajectory is to grow as a company and everyone has a clear, common goal and understands how to work towards it with defined responsibilities, it makes it a lot easier to be happy in the workplace. Being able to coach others and help them be successful is what I look for in a leader. That's pretty evident here at Hemmer, which is why we've had very limited turnover".
Hemmer, Jr. agrees.
"In business, you hate to have failure, but failure is part of success," he says. "We want that kind of environment where no one is going to be criticized for failure. If you repeat mistakes, that's the time to criticize. We want to learn from all the lessons, both the wins and the losses."
COMMUNITY TIES
It's one thing to hear someone talk about leadership, seeing it in action is another story entirely. That's why the company is extremely proud of its current project with the Freestore Foodbank: The construction of a 224,000-square-foot Community Resource and Distribution Center in Cincinnati. The center will not only consolidate the nonprofit's two current warehouses, but allow for enhanced, expanded workforce development programs and vital support services to combat hunger and poverty throughout the region. In addition, Hemmer is excited about its continued work with St. Elizabeth Physicians.  Work is underway on the partnership's latest outpatient center in Hebron that will serve the community alongside similar facilities in Independence, Dry Ridge, and Taylor Mill.
Hemmer, Jr. who cites his family's commitment to the region as inspiration, says the rewards from undertaking such projects extend beyond financial gain.
"My family emigrated to the Northern Kentucky community in the 1880s … For more than 140 years, this has been our home and we have more than 80 employees that live in this region and it's their home," he says. "We want the customer to win; we want our partners in the project, the contractors, and designers to win – that's what has led to our long-term success. We want to leave the communities that we live and work in, especially in Northern Kentucky where our home is, be a better place."
With the company continuing to produce and benefit from strong leadership, he can't wait to see what his team – and the region – can build together.
"We've created a good culture, an environment where people are proud to be a part of our company and take great pride in the work that they do – that's passed down. Now the goal is like a relay race to allow for a smooth handoff to the next generation of leaders," he says. "I feel very grateful and take a lot of pride in the company that we have. Hopefully, I'll be around for years to watch and see how it transforms."
To read the article in the magazine click here.